Rerailing
Rescue Equipment
If a train is derailed, it must be lifted and moved sideways in order to replace the wheels on the rails. This is done using a Rerailing System.

Holmatro Rerailing Systems offer a solution for faster, safer and a more controlled rerailing of railway vehicles on the track. Thanks to the user-friendly design of the system, the lightweight components are easy to place, assemble and disassemble by one person without the use of extra equipment. This ensures business continuity by greatly reducing delays and costs.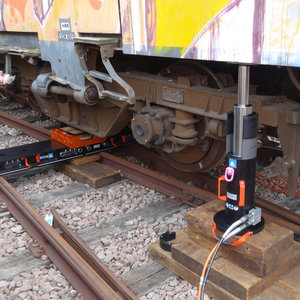 Faster, safer and a more controllable rerailing solutions for all types of railway vehicles
When it comes to rerailing a rail vehicle back on the track it's important do the job fast, safely and controlled. Reducing delay and costs are main priority, as well as providing workers a safe environment while lifting, moving and lowering the railway vehicle. By taking these priorities as guidance, Holmatro developed an extremely user-friendly solution that allows users to do the job faster, safer and with better control. No matter the type of railway vehicle.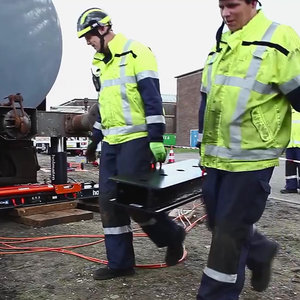 Maximum performance with minimum weight
Thanks to the lightweight components – up to 50% lighter than those of similar systems available on the market – physical burden is minimized considerably. A powerful Quattro pump with 4 independent control valves guarantees uniform cylinder stroke speeds during lifting and lowering, regardless of the load they're carrying. This makes controlling the vehicle synchronized more easily. Sideways movement of the vehicle is done smoothly, because of the use of special sleeve bearings instead of traditional steel wheel rollers.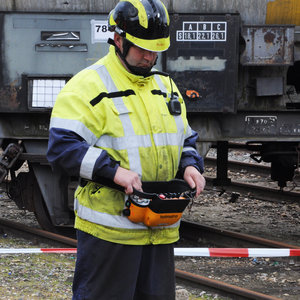 Unique features for extreme safe working
Besides reducing delay Homatro also focussed on safety. A few interesting features are added to the system to create an extreme safe work environment while working with the Rerailing Systems. For example;the pump can be operated remotely which allows the operator to adopt a safe position and enables him to move around the railway vehicle freely to keep an eye on the situation. Lowering valves with an integrated hose rupture security on each lifting cylinder keep the load steady when the operator stops controlling the pump or in the event of a hose rupture. To prevent instability of the railway vehicle and the equipment the traverse sleds are designed with an indicator which will alert the operator timely to traverse limits in lateral direction.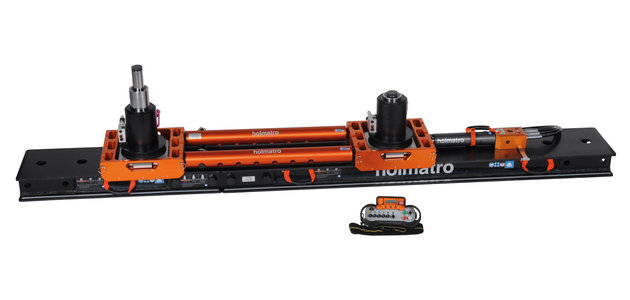 Every rerailing application is different, and so is every budget. That's why Holmatro offers 3 defined sets, each one suitable for different circumstances. If a set suits your needs but a slight change would make it more perfect, changes can easily be made by selecting other lifting components, sliding components, operation components and connection components. You can also compose your own customized Rerailing System. The choice is yours!