We represent Gerflor Transport product ranges for floor coverings application in Metros, Trams & Trains in Indonesia offering a comprehensive and compliant flooring product portfolio for the rail and mass transit sector.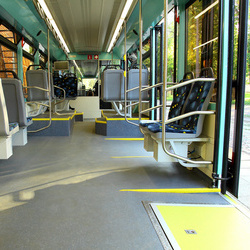 TRAVELLER BY GERFLOR
Floor Coverings for the Interior Fitting of Railway Vehicles
Gerflor is recognized as a specialist and a world leader in PVC flooring solutions. Already well-established in more than 100 countries, Gerflor is continuously developing its activities in new markets.
TRAVELLER is the Gerflor Transport product range specifically designed for Metros, Trams & Trains applications.
TRAVELLER offers a complete flooring solution designed to meet our customer's requirements and expectations.
Product Ranges:
TRAVELLER BASIC
TRAVELLER CLASSIC
TRAVELLER TRADITION
TRAVELLER DESIGN
The Traveller Advantages:
Flooring specifically engineered for mass transport applications
In compliance with the highest fire standards for passenger carrying trains
Exceptional anti-slip performance
Extremely good wear-resistance
Large selection of designs and colour schemes
Simplified laying procedures
The easiest vinyl flooring on the market to clean!

TRAVELLER SELF-ADHESIVE
Traveller floor covering with self-adhesive backing.
1 - Pure PVC without any filler.
2 - Glass Fiber Web
3 - Textile Backing